Baby Dee in front of the I love you baby dee billboard in Rotterdam, by Christina de Vos
September 10, 2011
Baby Dee is BIG in Rotterdam...
Who would have thought? First Baby Dee went into fashion in Vogue, Italy, now she goes all naked in Rotterdam, The Netherlands. Thanks to Rotterdam based artist Christina de Vos, whose drawing I love you baby dee has been blown up to billboard proportions.
The in your face statement will be welcoming travellers in Rotterdam at the entrance to the station untill December of this year.
...and in Hasselt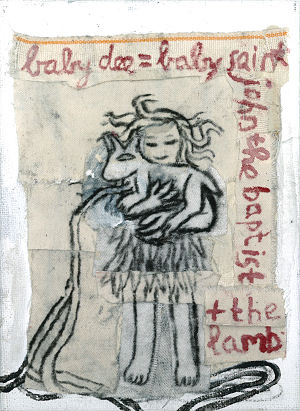 Like Baby Dee lots of people have fallen in love with the work of Christina de Vos, after they saw the slugs and snails she drew for the cover of Dee's album Regifted Light.
So, what could be more exiting than to attend to an event that combines the work of both artists? Well, if you're not far from Belgium next week, you can. On September 16 Baby Dee will perform in Hasselt, Belgium, in Kunstencentrum BELGIE, where Christina de Vos will exhibit all of her work related to Baby Dee.
Details:
September 16
Kunstencentrum BELGIE
Burgemeester Bollenstraat 54-56
5300 Hasselt, Belgium
19:00 - 21:00 : Exhibition Christina de Vos
from 21:00 : Baby Dee with band + Doug Tielli
Tickets € 10 if
ordered online
, or € 11 on the night itself
Baby Dee goes naked in Rotterdam and Hasselt
Additional tour dates
Sep 17 - Incubate Festival, Tilburg, NL
Sep 18 - Ancienne Belgique, Brussels, BE
Sep 21 - Stadtgarten, Köln, DE
Sep 22 - Berghain, Berlin, DE
Sep 23 - UT Connewitz, Leipzig, DE
Sep 24 - Haus der Musik, Vienna, AU
Sep 29 - Kampnagel, Hamburg, DE
Sep 30 - Atlas, Aarhus, DK
Oct 01 - Huset, Aalborg, DK
Oct 02 & 03 - LiteraturHaus, Copenhagen, DK
Oct 03 - Kunstakademi, Copenhagen, DK
Oct 25 - The Globe, Cardiff, UK
Oct 26 - The Haunt, Brighton, UK
Nov 02 - The International Anthony Burgess Foundation, Engine House, Manchester, UK
Nov 03 - Taylor Johns House, Coventry, UK
Nov 04 & 05 - Cafe Oto, London, UK
See Tour dates for ticket info and upcoming events with Marc Almond's Sin Songs, Torch & Romance Acoustic Tour